Wednesday, April 29th | 1:00pm ET
Due to the COVID-19 pandemic your services are under great strain. Relaymed want to play their part to help by automating your lab workflow, giving staff time back to perform more value-added tasks. Register for this webinar to learn how.
Relaymed, an Allscripts certified developer solution, puts point-of-care lab test results automatically into Allscripts TouchWorks® EHR and Allscripts Professional EHR™ in real time. Relaymed recently launched an interface for the new molecular point-of-care test from Abbott for the detection of COVID-19. Positive COVID-19 results are returned in the EHR in as little as 5 minutes.
In just 30 minutes you'll learn how Relaymed:
Delivers a significant time saving with every test run

Eliminates errors by removing the human from the workflow

Provides a fast and easy setup

Makes connectivity affordable
Don't just take our word for it -- you'll get the inside look from Community Care Physicians on why they made connectivity a priority for their group and the success they've had with Relaymed.
Fill out this form to register for the webinar now. Spaces are limited, so get on the guest list today!
Take advantage of free 60 day trial!
As a relief package to help get you through this challenging time, Relaymed are offering all webinar registrants a 60 day absolutely FREE trial.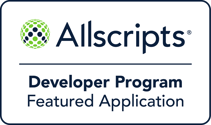 "Test results now go straight to the EHR, meaning practice staff can focus on more important tasks. Productivity and satisfaction are through the roof."
Phillip Bressoud MD | University of Louisville Physicians